Why Looks and Feelings Beat Function in Advertising
Function should be king when it comes to selling a product however we are human. Function matters but looks and feel matter a great deal and can make or break your product. This means your website, the actual products aesthetics, the commercials you make, etc. are very important to make look good. The products aesthetics isn't as important as the advertising and website but still important.
In life we deal with questions about if it is shallow to evaluate a woman or man on their looks. This could mean their clothing or their actual face and body. It is just who we are as humans. At a point we cannot negate the importance of looks and how things make us feel for the functionality. No matter who you are this just is something that is going on inside of us.
So when we look at a websites landing page we feel an emotion of ease, excitement, fun, or we feel overwhelmed, bored, and repelled. This isn't a binary setting either. It is a variable sliding scale situation. My favorite example of this is comparing Gravity Forms and Formidable Pro and their homepages vs their functionality and price.
Names even matter too. Notice how Gravity Forms sounds and how hard it is to spell. Sounds awesome and is super easy to spell. Formidable Pro sounds pretty alright but less effective than Gravity Forms. Formidable Pro is also harder to spell and it doesn't make a ton of sense why it isn't called Formidable Forms instead. This can confuse users and just makes for a rough time marketing it. Now for the homepage image comparison.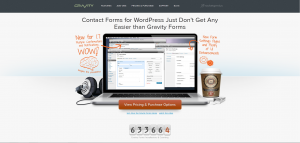 You can click on either item to see it larger but even as a smaller image you can tell that Gravity Form wins in Aesthetics of their homepage. Formidable Pro looks more formal, is darker, has a ton of text, etc. Gravity forms, even while using a cliche laptop image, still is winning out because of the lighter page and the cliche laptop image still sells well. This is very much how even though certain looks as a human may be cliche, they still are effective. The counter on Gravity Forms seems to be the only detractor of its page because people will assume it is a page counter when in fact it is a "how man people have installed our plugin" counter.
So when you are making a webpage, products, commercials, and naming your product, be aware that those things all will affect your ability to sell.
Formidable Pro (I always type Formidable Forms on accident because it sounds better in my head) costs $117 for use on unlimited websites with lifetime updates and no time limit on the support.
Gravity Forms however, costs $199 for use on unlimited websites with 1 year of updates and 1 year of customer support.
That is just the simple stuff. Formidable Pro has something that Gravity Forms does not. The ability to output data that was taken in by forms in almost any format you want. Pie charts, bar graphs, custom charts, searchable listings, etc. It has a very powerful output ability that you can style and manipulate in any direction you would like.
So what is important to note and the summary of this entire article is that no matter how good your product is; If you can't market your product well enough, your website isn't friendly enough (not super formal and boring), and the name makes your product suffer, it won't matter how good your product is, your sales will suffer and so will the products popularity.
[psCode: PostAdvisorFormBlock]